Product Description
Over 30,000 aftermarket & original parts
24/7 SALE SUPPORT
English/Español/Call Us Today
NEW 24V 12T CW 11KW STARTER MOTOR KOMATSU CRAWLER D60P D60S D65 D65A D75S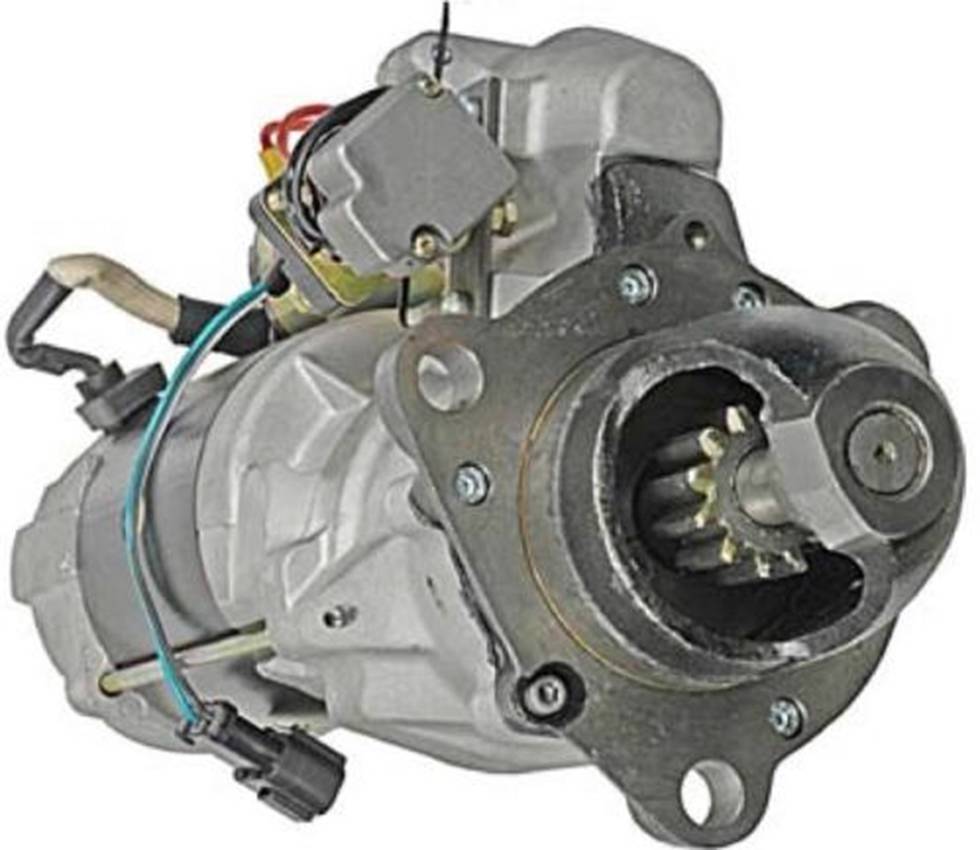 Replaces Part Numbers & Specifications
KOMATSU 600-813-4212
SAWAFUJI 0351-702-0610, 0351-702-0611, 0351-702-0612
OEM(S): KOMATSU, NIKKO, SAWAFUJITYPE: OSGRVOLTAGE: 24 VOLTSKW: 11 KWROTATION: CWTEETH/SPLINES: 12 TEETH/SPLINESPINION/SPLINES OD: 44.5MM / 1.752INMOUNTING HOLE 1: 16MM ID UNTHREADEDMOUNTING HOLE 2: 16MM ID UNTHREADEDMOUNTING HOLE 3: 16MM ID UNTHREADEDNEW OR REMANUFACTURED: NEWAPPROXIMATE WEIGHT: 45.8 LBS / 20.82 KG
KOMATSU CRAWLERS D50A 6D125 ENGINE 1989-1995KOMATSU CRAWLERS D53A 6D125 ENGINE 1989-1997KOMATSU CRAWLERS D53P 6D125 ENGINE 1986-1997KOMATSU CRAWLERS D60A 6D125 ENGINE 1989-1997KOMATSU CRAWLERS D60E 6D125 ENGINE 1995-1997KOMATSU CRAWLERS D60P 6D125 ENGINE 1991-1997KOMATSU CRAWLERS D60S 6D125 ENGINE 1989-1995KOMATSU CRAWLERS D65 6D125 ENGINE 1986-1995KOMATSU CRAWLERS D65A 6D125 ENGINE 1991-1997KOMATSU CRAWLERS D75S 6D125 ENGINE 1976-1995KOMATSU LIFT TRUCKS FD400 6D125 ENGINE 1986-1994KOMATSU LIFT TRUCKS FD400E 6D125 ENGINE 1986-1994KOMATSU MOTOR GRADERS GD600R 6D125 ENGINE 1989KOMATSU MOTOR GRADERS GD605A 6D125 ENGINE 1989KOMATSU MOTOR GRADERS GD605R 6D125 ENGINE 1989KOMATSU MOTOR GRADERS GD655A 6D125 ENGINE 1989KOMATSU MOTOR GRADERS GD705R 6D125 ENGINE 1989
SHIPPING TIME: Orders placed and paid by 5:00PM Eastern Standard Time will ship same day (excluding weekends and holidays which will ship next business day) Tracking information will be sent via e-mail by our shipping department. Deliveries times vary by location and shipping method. Typically UPS deliveries to the Eastern US are one (1) to two (2) business days, where deliveries to the Western Continental US or most remote locations, may take up to four (4) to six (6) business days.
Items purchased with FREE SHIPPING & FLAT SHIPPING RATES only apply to US 48 CONTIGUOUS STATES and does NOT include APO/FPO/MPO (these areas are subject to a shipping surcharge). International Shipping, US Non-continental shipping which includes Alaska, Hawaii, Puerto Rico, US Territories and APO/FPO/MPO all have similar delivery times and will be shipped by the appropriate shipper, such as UPS, FEDEX or USPS. We also Saturday delivery on domestic shipments if it is available for your shipping zip code (Saturday Delivery is an extra $15.00 and is not always available please contact us at 1-866-695-0363 to verify this with our Shipping Department).
We also offer Expedited Shipping WORLDWIDE (Duties, VAT, & taxes vary depending on the country and are the responsibility of the buyer)
SHIPPING RATES: Please see our Shipping Rate Calculator on this page to get your shipping costs. Canceling Orders: In the event you need to cancel or change your order you may do so within 24 hours, provided your order has not been shipped by contacting us at (866) 695-0363. Please make sure the Ship-To address you use during checkout is correct. We are not responsible for wrong or undeliverable addresses.
We accept all methods of payment including all major credit cards, American Express, Master Card, Visa, and Discover.
We accept and prefer PayPal. We also accept VISA, Mastercard, American Express, and Discover on our secure web server.
RAREELECTRICAL products, when properly installed, are warranted against defects in materials and workmanship to the original purchaser for a period of one (1) year. Warranty does not cover failure due to accident, abuse, neglect or as the result of normal wear and tear. Improper installation, careless handling, tampering or disassembly in any way; will void original factory warranty. Failures due to rust, submersions, deliberate abuse, broken gears, housings or components shall not be considered for warranty, nor products used in applications for which they were not intended.
The sole responsibility of RAREELECTRICAL if any; shall be the repair or replacement of defective products as stated above. This warranty being expressly in lieu of all other obligations or liabilities and RAREELECTRICAL neither assumes nor authorizes any other person or firm to assume for it any other liability in connection with the sale of its products or merchandise.
It is the responsibility of the customer to verify the correct application information prior to purchasing any product from RAREELECTRICAL. All purchases made in error are subject to a 20% restocking fee and require a return authorization number.
BUYER IS RESPONSIBLE FOR ANY AND ALL SHIPPING CHARGES
Quick ShoppingVisit Store
Newly Listed
Ending Soon
On SaleCustomer Service24/7 Customer Service
Call Today: 1-866-695-0363
Email: eBay MessagingFollow UsStay InformedNewsletter Sign Up
Follow Seller
FeedbackWe Accept© Rare Electrical. All Rights Reserved. eBay Responsive Template Design.